Scenario: Jag vill hämta status från UptimeRobot och visualisera information i Power BI Desktop(och Power BI Report Server).
Vad som behövs: Konto/inloggning hos UptimeRobot(går bra med gratisvariant) samt någon/några upplagda monitorer över webbsidor.
Logga in på https://uptimerobot.com, klicka på "My Settings".
På sidan(rulla ner) ser du "API Settings", Klicka på "Create the Read Only API key"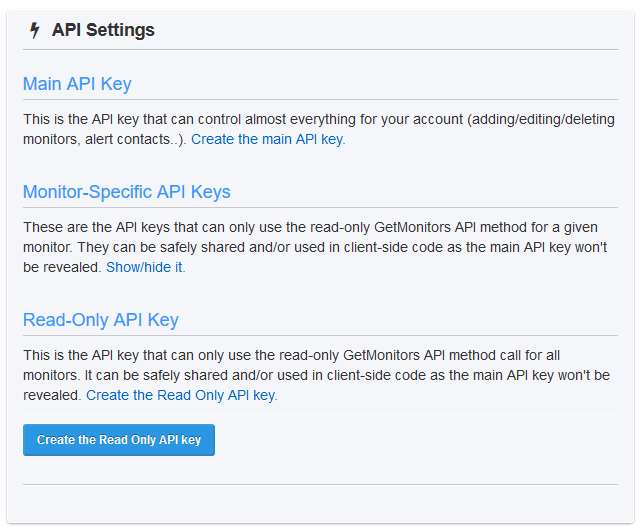 Kopiera API-key genom att klicka på "Copy to Clipboard".

Öppna Power BI Desktop -> Get data -> Blank Query
Klicka på "Advanced Editor".
Ersätt innehållet med nedan samt ändra till din API-key som du kopierat tidigare. (Exempel api_key nedan är inte längre aktiv…)
let
content = [
#"api_key"="ur202988-e6574769dde65273bfb40b2e",
#"format" = "json",
#"logs" = "1"
],
query = Text.ToBinary(Uri.BuildQueryString(content)),
Url = "https://api.uptimerobot.com/v2/getMonitors",
Options = [
Headers=[
#"Content-type"="application/x-www-form-urlencoded",
#"cache-control"="no-cache"],
Content=query
],
result = Web.Contents(Url, Options)
in
result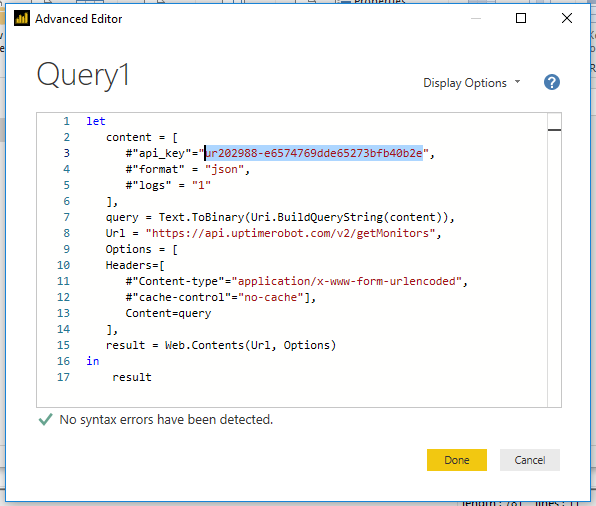 Öppna som "Json"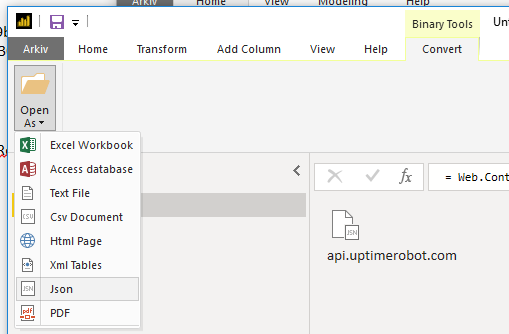 Klicka på List (efter monitors)

Klicka på "To Table" – Därefter "OK"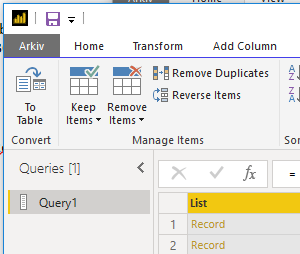 Expandera genom att klicka på pilarna till höger om "Column1".

Bocka ur "Use original column name as prefix" (valfritt), därefter OK.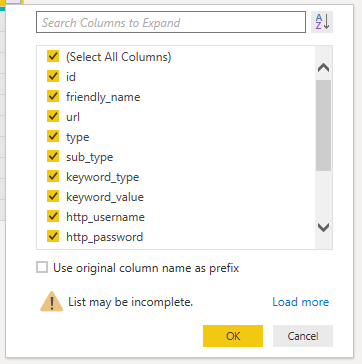 Du har nu en tabell med det du är ute efter

Det som kanske är mest intressant är Status.
Status
0 – paused
1 – not checked yet
2 – up
8 – seems down
9 – down

Du kan läsa vad de olika värdena innebär https://uptimerobot.com/api

Klart!